Happy Labour Union Movement Day
Hello friends,
Happy Labour Day long weekend!!! I hope you all have a excellent time celebrating the achievements of workers and the origins of the labour union movement, specifically the eight-hour day movement. Yay labour!
To celebrate our labour day we decided to have a laborious-less Saturday and play tourist in the ol' MTL. I find that after living in a place for more than 6 months your list of local things to do slowly gets longer and longer to the point where you never actually do any of the really touristy activities in the city. For instance, there is an incredible cathedral in old town Montreal called Basilique Notre-Dame which houses the younger, less energetic brother of Quasimodo and we had never been. Or the famous Schwartz's Deli, a delicatessen restaurant established in 1928 by Reuben Schwartz, famous as the oldest remaining Montreal-style smoked meat restaurant. The restaurant also sells smoked meat by mail order. It is kosher-style rather than kosher. Sorry. But we had never been! (spoiler alert: we still haven't been to Schwartz's. We arrived for lunch for find a line up wrapping around the block. Neither of us cared that much for smoked meat sandwiches so we got Portuguese chicken. #worthit)
We got up Saturday morning, excited for the day ahead of us and to get ourselves energized we cleaned the house! Nothing says labour day like scrubbing a toilet. We were really trying to get back to the grass roots of the holiday. By that, I mean that Heather cleaned the house. In fairness, I've cleaned the house for the past two weeks because she was working on Saturdays so she cleaned the house so I could prepare a class I'm gonna be teaching this Wednesday at my buddy's business Totem Academy where I got to teach about making videos on a budget. Taking it back to my grass roots where I used pot lamps from Home Depot strapped to mic stands.
Once the house was in order we hopped on our bikes and headed out to find food in the trendy part of town but, like I said, upon arriving we found a line around a block and a tour guide telling a joke about Schwartz's for the 300th time so we instead went to this little Portuguese restaurant called Rotisserie Romados known for their Piri Piri chicken poutine and natas. We've talked about natas before in one of our previous blog posts but if you're unfamiliar with these tasty treats they are Portuguese egg tarts which originated from convents and monasteries in the 18th century. They would use egg whites for starching their laundry, and use the left-over yolks to make pastries and cakes, which resulted in pastel de nata becoming more and more popular throughout the country, since the monks would sell them to the public. Growing up, I would eat Chinese egg tarts but I've got to admit, the Portuguese do it better.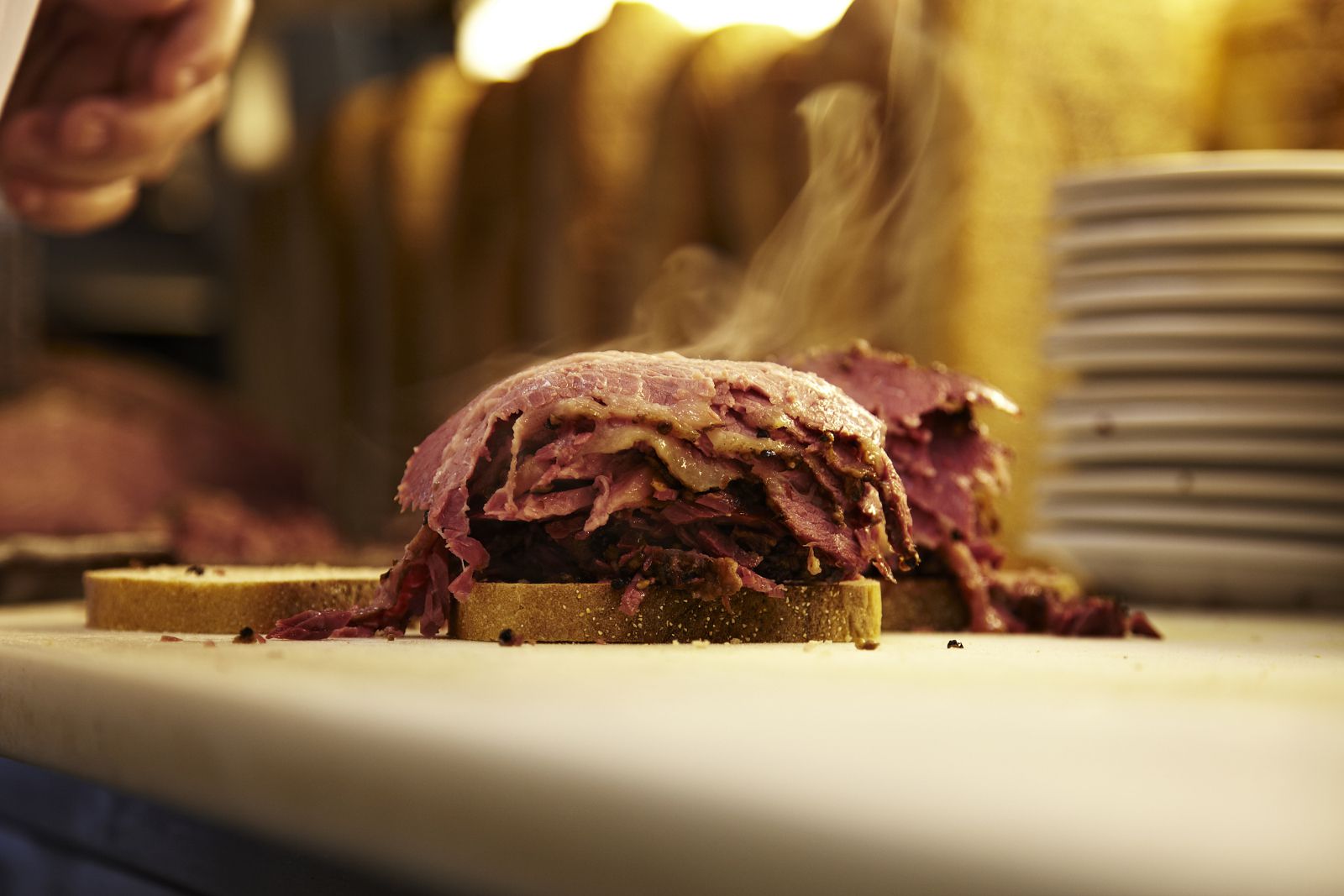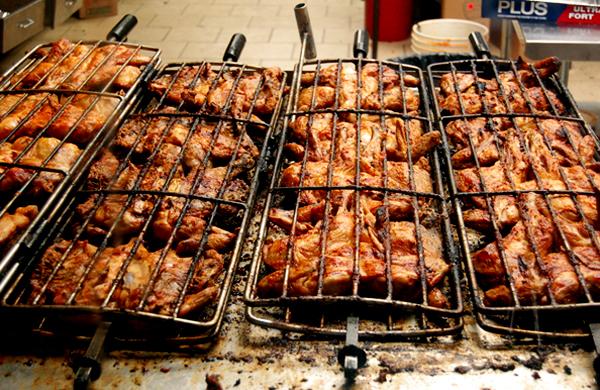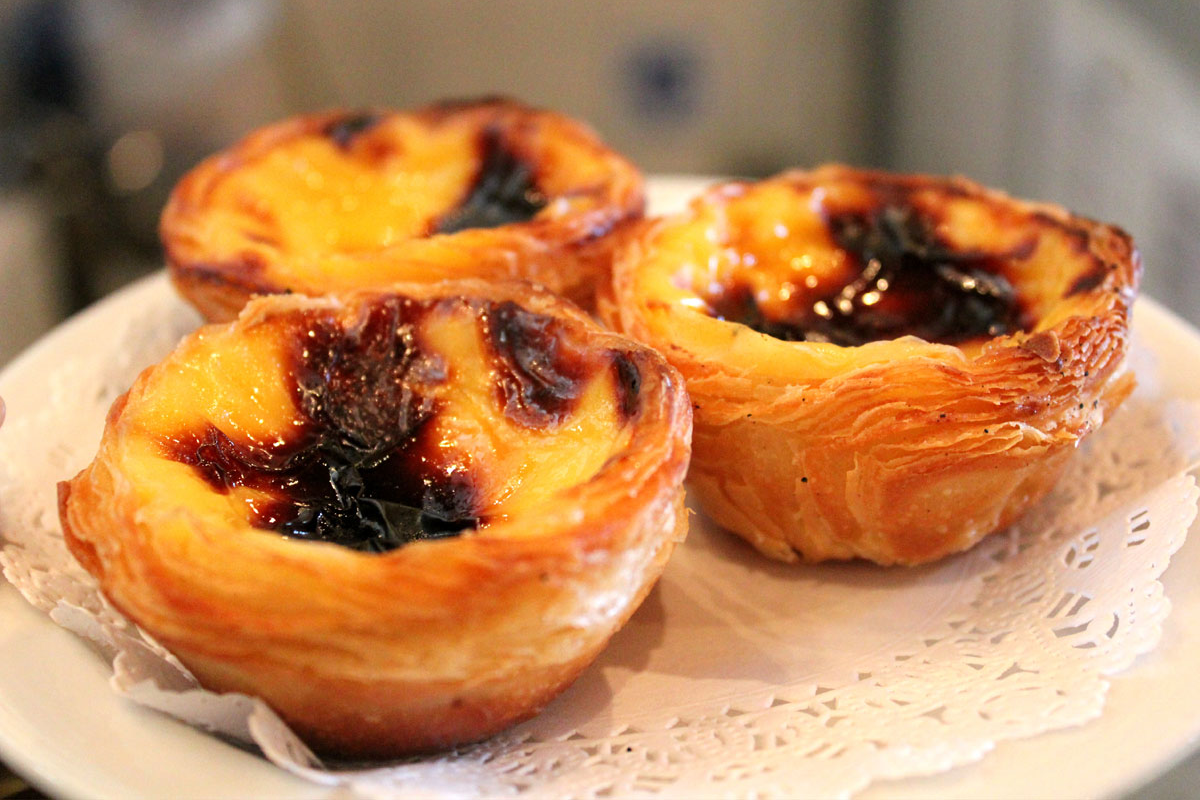 We've had Romados' chicken poutine before which is incredible so we changed it up and had the Churiço poutine with a chicken sandwich, salad and natas for dessert and went to a park to enjoy our splendor and were approached by an adorable little cat who came to keep us company while we ate. Heather grabbed a piece of chicken to give it to it as a treat but the cat misinterpreted the gesture and rubbed its head into the chicken. It quickly realized its mistake and chowed down and then hung around and let us pet it before disappearing in between bites of poutine.
After that we bought a basket for Heather's bike, which she's been wanting since she got a bike, and headed down to Old Montreal to the Basilique. It is such a stunning piece of architecture! You we always forget how breathtaking 18th century churches are to behold. Even more impressive is the fact that it was completed in only 35 months, working from April to October between 1824 and 1829. At the time of its inauguration, Notre-Dame Church was the largest house of worship of any religious denomination in North America. The carvings at the head of the cathedral and around the walls were stunning as well. One thing we loved was the abundance of female representation in their statues. So much of their influencing figures in the churches history were nuns. Another cool thing we learned, the three statues on the façade of the Basilica represent Montreal (the Virgin Mary), Quebec (Saint John the Baptist) and Canada (Saint Joseph).
Fun fact, The great "Jean-Baptiste" bell in the bell tower of the basilique weighs 24,000 pounds (11 tons). Learned something new today.
We went down to Costco afterwards to pick up some steaks and a 2kg strawberry rhubarb pie and headed to our friends the Hutchinson for some good ol' BBQing to close off the night. We can always count on them for good food. We had steaks with corn, egg plant, kale salad and pie and ice cream and, a little blast from the past, some Cool Whip! It was a good Saturday.
Anyways, enjoy your Labour Day weekend! We're planning on riding roller coasters to continue our labour celebration ;) Till next time,
- Steven